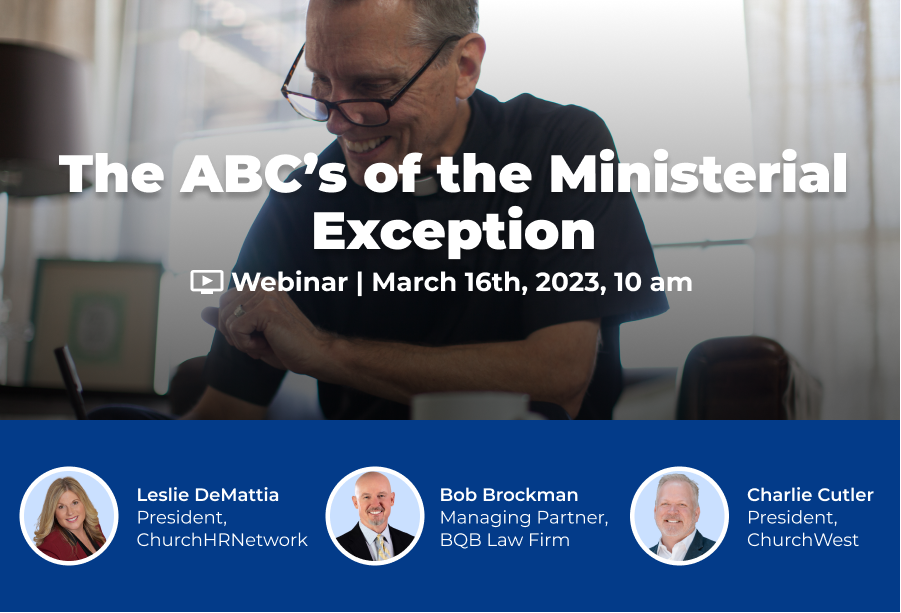 The ABCs of Minister's Compensation and the Ministerial Exception
Upcoming Webinar on March 16th, 2023 @ 10 am
Leslie Demattia, President of ChurchHRNetwork
Bob Brockman, Managing Partner at BQB Law Firm
Charlie Cutler, President of ChurchWest Insurance Services

Join our experts Leslie, Bob and Charlie as we explore the complexities of the Ministerial Exception. In this webinar, we'll discuss the legal protections afforded to religious organizations in their hiring practices and employment decisions.
In this session, you'll learn:
– The legal definition of the Ministerial Exception and how it applies to religious organizations.
– Is it an Exception or an Exemption?
– What are ministers excepted or exempted from?
– The legal risks associated with misclassifying employees and how to avoid them.
Whether you're a church leader, administrator, or HR professional, this webinar is essential for anyone who wants to understand the ins and outs of the Ministerial Exception.
Don't miss out on this opportunity to learn from the experts and improve your compliance practices! Register now to secure your spot.