What is Safety & Security Coverage?
Securing your church or ministry has become increasingly important in today's world. Acts of violence in places of worship are still rare, but the potential for harm to your congregation and staff is very real. Incidents can include domestic violence, disruptive members, and even an active shooter.
Given the need for safety, many ministries are formalizing their safety programs with trained security teams. A security ministry can give peace of mind to your congregation and honor God's instructions in 1 Peter 5:2 to "Be shepherds of God's flock that is under your care, watching over them—not because you must, but because you are willing, as God wants you to be."
Safety & Security Insurance Coverage can protect your ministry in two ways:
Security Operations Liability Coverage: This insurance can protect your ministry and members of your security team from liability arising from enforcement of your security or weapons policy.
Traumatic Incident Response Coverage: This insurance can help your ministry respond to a traumatic event by providing additional coverage for medical expenses, counseling, and reimbursement of costs for renting new facilities if needed.
Together, these coverages keep your ministry covered as you work to provide a safe and secure place of worship for your community.
Starting a Security Ministry
One of the biggest hurdles to beginning a security ministry is getting buy-in from your leadership. For many pastors and board members, a formal security team may seem like an unnecessary measure. 
Here are a few objections you may encounter when pitching a security ministry to leadership:
We don't need organized security: You may hear this objection if your church is small or not located in a high-crime area. Maybe you've never had a security incident before, or your leadership team is optimistic it won't happen in the future.
However, it's important to remember that as a ministry leader, you have a responsibility to create an environment where parents can know that their children are safe, their teens are safe in the teen department, and adults are safe when they fellowship together.
A security team will scare our members: Actually, the opposite is more likely. The members of your ministry see and hear what's going on in the news. They live in the world just like you do. When they hear about church vandalism or a violent incident, it's natural to wonder how their own ministry would respond. A security team can have a calming effect on your members, and your people will appreciate that leadership is making safety a top priority.
We don't have the budget, the people, the time or the expertise: Don't be paralyzed by analysis. Security for your church or ministry can be tackled like any other issue – one step at a time.
Ask for help from inside your ministry, your network and other churches or ministries in your area. If you have existing firefighters, law enforcement or EMTs in your congregation, they can be an excellent asset for developing your security program. When you've gathered help and advice, choose someone to lead the initiative and delegate responsibility to him or her.
Guidance is Available
There are many resources available for beginning your security program, ranging from books on the subject to 1 on 1 consultants. A great option for your Christian ministry is the Safe and Secure Church Kit from Brotherhood Mutual.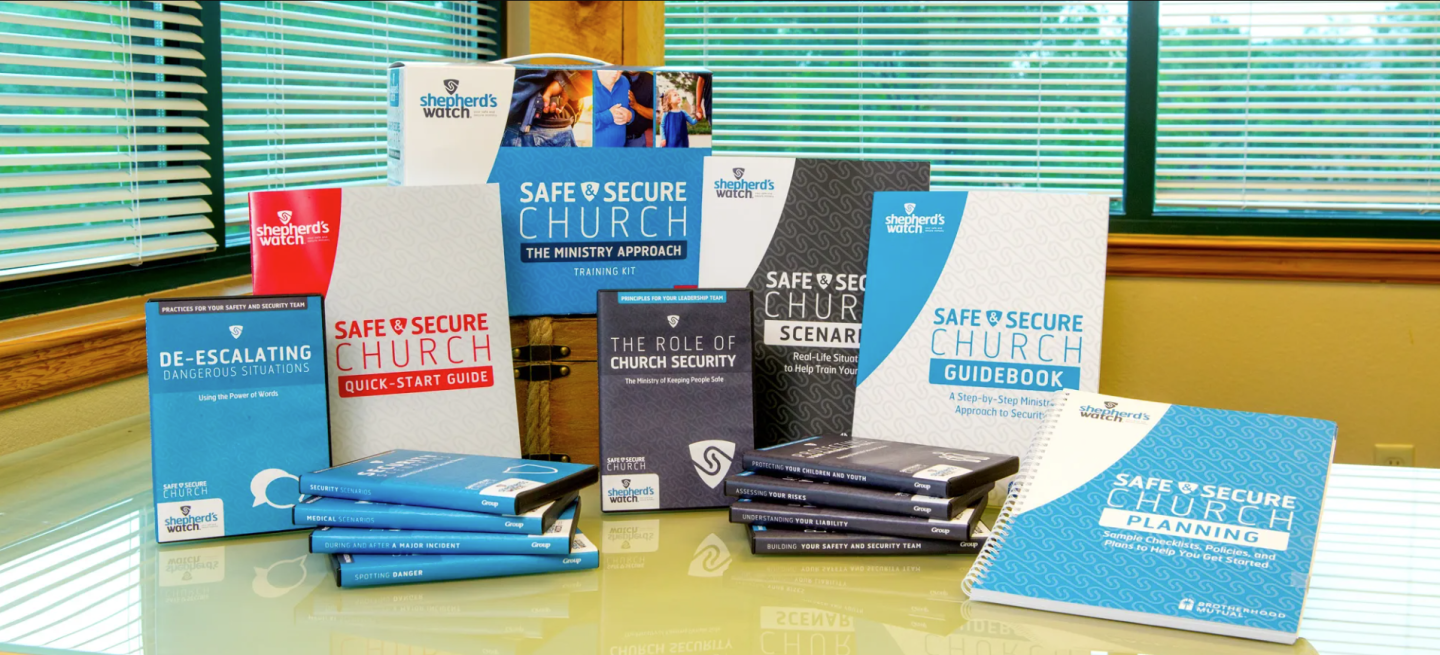 This comprehensive, ministry-focused kit helps you recruit, train, and equip a safety and security team that both protects and serves your congregation. Be ready for anything—from a medical problem to a catastrophic active-shooter situation. Brotherhood Mutual is the author of the guide and manuals and Shepherds Watch created the DVDs.
If you're a policyholder with ChurchWest, talk to your agent about getting the kit at a 20% discount.
What are examples of Safety and Security Claims?
These are a few Safety and Security scenarios that we've seen ministries like yours face. While every situation is unique, these scenarios help illustrate the types of risks that this coverage can protect against.
A Security Operations Liability claim example
A non-custodial parent becomes upset when denied access to his child while she is attending your ministry activity. A security team member draws a weapon, points it at the floor, and asks the parent to leave. When the parent moves toward the activity entrance, the team member raises the weapon and aims it at the parent. The parent leaves, but later files a lawsuit for emotional injury.
A Traumatic Incident Response claim example
Following a traumatic incident, your church hires a Christian counseling firm to be on site for four-hour blocks of time each Saturday for six weeks. Everyone at church is invited to make appointments with counselors during these blocks of time at no cost to the church members. Your leadership then hires the same counseling firm to come back for two Saturdays near the first anniversary of the event. This coverage could cover your costs of counseling, subject to the terms of the policy.
Next Steps
In conclusion, Safety & Security insurance is an essential protection for your ministry to protect your security team, and provide reimbursement following a traumatic event.
Worried about the cost? A ChurchWest agent can bundle your Security Operations Liability and Traumatic Incident Response insurance with other ministry-specific coverages as part of a comprehensive insurance package. By bundling your coverage with ChurchWest, you can get the best protection at the most affordable price.
Click the "Get a Quote" button at the top of this screen to contact your local agent, or explore our other coverage pages to learn more about guarding your ministry's finances and reputation.